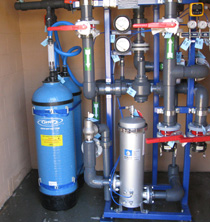 EQUIPMENT & SERVICES—TREATMENT EQUIPMENT
Portable Exchange Systems
The WRT Portable Exchange Systems (PES) are designed for various contaminant removal applications from 5 to 100 gallons per minute.
Z-88® Radium or Z-92® Uranium removal systems can be utilized in any new or existing potable water system. Water passes through treatment vessels where the contaminant is removed. When the treatment media is ready for replacement, the portable treatment vessels are removed from the circuit and replacement vessels are provided and installed on a cost per exchange basis. WRT disconnects the used vessels, installs the replacement vessels into the system, places it back into operation, and provides for the safe removal and disposal of the spent media.
Advantages of the WRT Portable Exchange System:
Nothing is added to the water. No chemicals are added in the treatment process
No liquid waste stream is generated by this process; this is a zero-liquid-discharge system
Treatment residuals are safely and properly disposed of by WRT
Minimal operation and maintenance required
Z-88® and Z-92® Media are NSF Standard 61 certified for use in drinking water applications
WRT provides the following:
A complete PES treatment system designed for the application
Installation instructions
Operation and Maintenance Manuals
Collection, transportation and disposition of spent treatment media
One year equipment warranty
View WRT installation reports here.