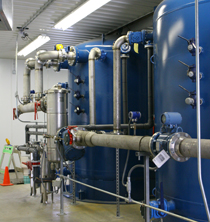 Equipment & Services
To help customers achieve regulatory compliance, WRT manufactures, provides and services water treatment process equipment for the removal of radium, uranium, barium and other contaminants.
WRT's proven, patent-pending processes offer the simplest and most effective, cost-efficient and environmentally responsible means of reducing contaminants to the lowest levels possible—guaranteed. Our total solution includes process equipment, proprietary treatment media, safe exchange and disposal of media, and maintenance on a cost-per-1,000 gallons treated basis.
Check out one of our California full-scale installations
Hillview Water Company—Sierra Lakes Treatment Facility, Oakhurst, CA
Video courtesy of Hillview Water Company