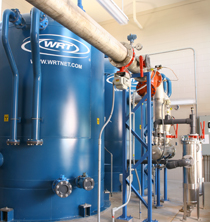 MARKETS
Drinking Water
WRT provides cost-efficient water treatment processes and proprietary treatment media for the removal of radium, uranium, and other select contaminants from drinking water.
WRT currently has over 175 full-scale systems in operation in 19 states and has conducted over 100 pilot studies nationwide for the removal of radium and uranium. We also hold radioactive materials licensing for operation in 203 states, allowing us to handle, remove and safely dispose of radioactive treatment residuals.
On-site pilot testing is available, and services can be provided on a cost-per-gallons treated basis. WRT water treatment processes offer many advantages including:
Treatment systems for 10 to 10,000 GPM
No chemicals added
No liquid waste stream generated or radioactive solids discharged to the sewer
No backwash required
Simple operation
No handling of radioactive materials, media or chemicals by Utility staff
Guaranteed process performance
WRT's treatment processes represent the most efficient and environmentally progressive solutions in the industry for meeting regulatory compliance standards.
View radium removal solutions here.
View uranium removal solutions here.